ALL SKIN TYPES
Regular price
Sale price
$19.00
Unit price
per
Sale
Sold out
Clear troubled skin at the source with this overnight spot treatment. Made with natural minerals and exfoliating Beta Hydroxy Acids (BHAs), Charcoal Drying Lotion works fast to unclog pores on your face, jawline, chest, and back.
Salicylic Acid
begins by dissolving pore-blocking buildup of dead skin cells. Absorbent Activated
Binchotan 
Charcoal instantly draws out grease, while Zinc Oxide and Sulfur work deep to eliminate impurities and control excess oil. To calm the newly purified pore, cooling
Camphor
and soothing Calamine treat visible signs of irritation, inflammation, and sensitivity. Clarifying
White Willow Bark
minimizes redness and tightens the look of pores. Apply this treatment at the first sign of trouble, and you'll wake up to a calm complexion that looks good as new.
BENEFITS

Shrinks the appearance of troubled pores overnight
Supports clearer, calmer skin
Unblocks and purifies pores
Draws out excess oil
Relieves redness, puffiness, swelling, and irritation
INGREDIENTS

SD Alcohol 40B, Deionized Water, Charcoal Powder, Camphor, Glycerin, Calamine, Zinc Oxide, Salix Alba (Willow) Bark Extract, Sulfur, Bentonite, Salicylic Acid, Caprylyl Glycol, Phenoxyethanol, Hexylene Glycol
DIRECTIONS

Apply at night after cleansing and toning. Do NOT shake bottle. Allow product to settle. Dip a fresh cotton swab into sediment and lightly dab onto troubled areas. Let dry. Rinse off in the morning with cleanser and toner.
View full details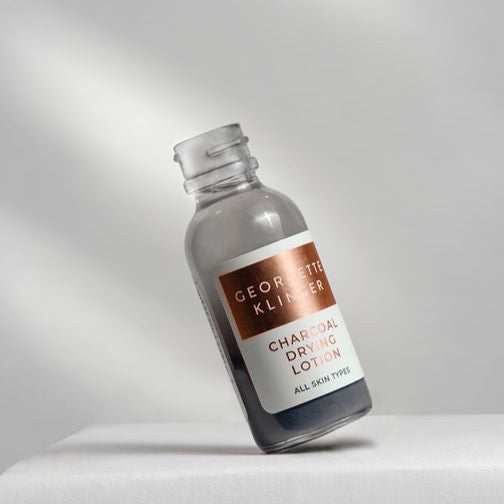 MADE IN USA | PARABEN FREE | CRUELTY FREE | DYE FREE | FRAGRANCE FREE | VEGAN | GLUTEN FREE
Awesome! It works!
I was very surprised when I used this for the first time. I didn't expect it to work until I used it for a couple treatments, but my blemishes shrank significantly overnight. I have combination skin and some products will irritate my skin, but this one did not. Great product!
So far so good
A little messy but I think , in time, it will help with the blemishes.
Only problem is when using it at night, it gets all over the pillow case.
Good Stuff!
I use this lotion, I am so glad I did. I had a face full of acne, I'm been using this product about a week. I only got about two bumps left. Will buy again. Worth every penny. Thank You!
Not impressed
I am not sure if it did anything for my acne other than agitate it more. I find it's really difficult to remove so Ive had to reeeally scrub my face which irritated and flared up my skin/breakouts. I absolutely love the Volcanic Mineral Scrub from GK and it has done wonders for my acne/skin in general but this did nothing to dry or clear up my acne. I will be returning unfortunately.
Highly recommend
Works great for oily skin types
30-DAY MONEY BACK GUARANTEE

FREE SAMPLES WITH EVERY ORDER